Snake Shows, kids snake shows and reptile parties, Melbourne
Snakebusters are known as "Australia's best reptiles" because:

1/ Snakebusters are the only reptile shows in Australia that do "hands on reptiles", where people hold the reptiles. Other snake shows only allow people to see them in a "show and tell".
2/ Snakebusters are the only Australian company with the internationally recognised experience to have a fully legal venomous snake demonstration with vet certified, surgically devenomized and microchipped in accordance with the OH and S Act 2004 and other relevant laws). All other deadly snake shows are both a risk and illegal!
4/ We also have everything else you'd expect from a government licenced snake handler and reptile displayer, such as frogs, turtles, crocodiles and more.
4/ Snakebusters are the only company with more than 30 verifiable years in the reptile display business ... experience matters!
Snakebusters are the only dangerous snake shows company with expert staff who gives your kid's reptile party, children's event, adult's reptile party an exciting hands on event, which also brings you an Australian deadly snake display at your place and in complete safety!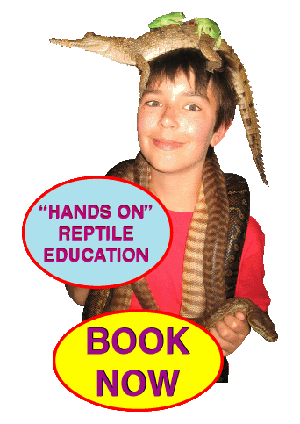 Snakebusters is one of several registered trademarks for the following: